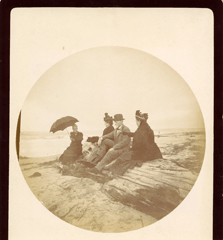 1893 Southwest Photographs Collection
This collection is comprised of travel photographs taken in 1893 by an anonymous photographer. Images illustrate a number of American cities from New Orleans, Louisiana to locations in Colorado, and train station scenes feature prominently. The albumen prints were originally part of a photograph scrapbook.
On display: Photograph of three women and one man in formal attire enjoying the seashore on a large piece of driftwood.




Alexander Haight Collection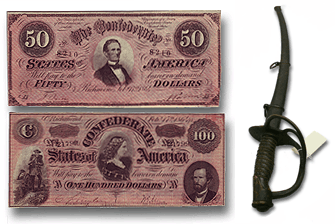 Alexander Haight and his family were Northern Virginia residents since the 1840s. During the Civil War, they owned Sully Plantation, located in what is now Chantilly, Virginia. Sully Plantation was built in 1799 by Richard Bland Lee, General Robert E. Lee's uncle and Northern Virginia's first Congressman. The main house at Sully combines aspects of Georgian and Federal architecture. Today, Sully Plantation is on the National Register for Historic Places, and accredited by the American Association of Museums. When visiting, you will find original outbuildings, a representative slave quarter and gardens. This collection measures just over 7 cubic feet (9 linear feet) and includes journals, household records, military records, and photographs. Additionally, collection artifacts consist of Indian arrowheads, Civil War relics, ammunition, and Confederate currency.

On display: A selection of Confederate money and a Civil War Era cavalry sword.

Charles Baptie Collection
Charles Baptie was a photographer, printer, and publisher. Early in life, Baptie became interested in photography and airplanes, and it was these interests that led him to become a photographer and public relations person for Capital Airlines. His camera recorded the life of the airline for many years. When Capital Airlines merged with United Airlines, Baptie left the company and formed his own business, Charles Baptie Studios, Inc. Since that time, Baptie photographically illustrated more than fifty books and other publications, including Capital Airlines: A Nostalgic Flight Into the Past, Great Houses of Washington, Camera on Assignment. As a photojournalist, he covered feature stories for leading magazines and Sunday supplements. This portion of his career led him to meet and photograph many of the world's leaders and notables.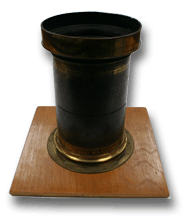 The Baptie Collection contains prints and negatives of Gunston Hall, the home of George Mason, transparencies and prints from the Great Houses of Washington, D.C., black & white negatives of the Washington metropolitan area taken in the 1950s and 1960s, photographs of George Mason University, and an original 19th century camera lens.
On display: This camera lens, patented in 1868, was originally owned and used by famous Civil War photographer, Mathew Brady (1823?-1896). After the war, he founded and operated a portrait studio on Pennsylvania Avenue near that capital. Will Towles became Brady's successor and operated the Towles studios for a number of years. Towles gave this lens to his friend, Charles Baptie.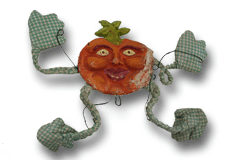 Federal Theatre Project Collection
The Federal Theatre Project (FTP) was a division of the Works Progress Administration (WPA), which was established to provide work for unemployed citizens during the Great Depression. Headed by Hallie Flanagan (1890-1969), the FTP began in August 1935. It flourished as the first and only government sponsored and subsidized theater program in the United States. The repertoire of plays was vast, including revivals of the classics and new and experimental works like the "Living Newspaper." Federal Theatre Project productions also
included puppet and marionette shows, vaudeville, musicals and dramas with titles such as Pinocchio, Rip Van Winkle, It Can't Happen Here, Macbeth and The Tragical History of Dr. Faustus.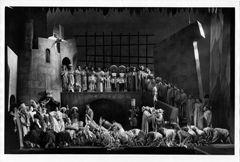 The extensive collection consists of scripts, photographs, posters, videotapes, souvenirs, scrapbooks, oral histories, and other Federal Theatre Project related material. Sources of donated materials include persons formerly employed by the FTP, various theater historians, the National Archives and Records Administration, the Library of Congress, and GMU faculty.
On display: A tomato-shaped marionette, production unknown and a photograph from Orson Welles' 1936 production of Macbeth in New York City. Welles' version, often referred to as "Voodoo Macbeth," kept the basic story intact, but changed the setting to 19th century Haiti.

Arthur Peterson Collection

Arthur Peterson (1912 – 1996) played character and supporting roles on stage, television, and feature films. Born in North Dakota, Peterson first obtained a degree in theater from the University of Minnesota before becoming a professional actor with the Federal Theater Project. Peterson made his media debut in 1936
with a regular role on the radio serial The Guiding Light. He was perhaps best known, however, for his
role as "The Major" on the television soap opera spoof Soap.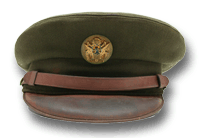 The collection contains materials relating to Peterson's long acting career spanning from the early 1940s to the late 1980s. Materials in the collection include scripts to his television, film, and stage roles, correspondence, photographs, and props used by Peterson.
On display: A prop hat Peterson worn on the television series Soap.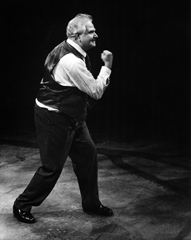 Arena Stage Collection
Co-founded in 1950 by Zelda Fichandler, Thomas C. Fichandler, and Edward Mangum, Arena Stage was an early leader in America's resident theater movement. Mangum, a teacher from George Washington University, and Fichandler, one of his students, opened the theater in Washington D.C. in hopes of filling the void left by the closing of the National Theater in 1948. Deriving its name from the idea of "theater in the round," Arena Stage became one of the first resident theaters in the United States. Today, Arena performs to over 250,000 patrons each season. It employs nearly 200 theater professionals and craftpersons who are responsible for all the costumes and scenery seen on stage.
Donated to George Mason University in fall of 2000, the Arena Stage Collection contains materials which span the theater's 50 year history, and contains production notebooks, photographs, playbills, scrapbooks, and handwritten correspondence.

On display: A photograph of Robert Prosky in Arena Stage's 1974-1975 production of Death of a Salesman.

Robert Prosky Collection
Robert Prosky (1930-2008) was a theater, television and film actor. He spent much of his career in theater, acting in more than 200 plays at the Arena Stage in Washington, D.C., on Broadway in New York City, and in regional theater. Prosky's association with the Arena Stage included more than 130 productions over the course of 20 years. His Broadway appearances included "Glengarry Glenross," "A Walk in the Woods," and "A View from the Bridge." Highlights from regional theater include "Death of a Salesman," "Twelfth Night," and "You Can't Take It With You."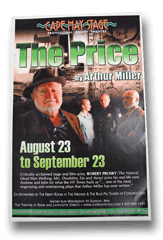 Beginning in the 1980s, Prosky began regularly appearing in films and television shows. His film credits include "Mrs. Doubtfire," "The Natural," and "Dead Man Walking." His television credits include three years on "Hill Street Blues," in addition to many television films, and many guest appearances throughout the years. Towards the end of his memorable career, he continued to perform on stage, spoke at universities and gave lectures on his long career at universities, film festivals, for theater benefits, business groups and on cruises.

Prosky was given or nominated for two Tony awards, an Emmy, two Helen Hayes awards, the Drama Desk award, and the American Express Tribute to an American Actor.

The collection consists of documents spanning Prosky's career in theatre, film, and television. Materials include playbills, photographs, scripts, reviews, fan letters, scrapbooks, and audiovisual materials.
On display: A theater poster from the last play Robert Prosky acted in, The Price, by Arthur Miller.

African Art Collection
Special Collections & Archives has a variety of African art and artifacts. Donors include Howard Gleim, Richard Peterson, Richard Flach and graduates of George Mason University, William and Pamela Drummond.
The collection consists of masks, altar pieces, necklaces, fertility goddesses and gold dust containers from tribes located in West Africa. Many of the pieces are carved of wawa wood from Ghana and iroko wood from Nigeria. Common materials such as egg yolk and soot are used as finish.
On display: A West African 20th century horned mask donated by William and Pamela Drummond. (left)
A West African mask collected between 1936 and 1938 in the region of Kakata, Liberia,donated by Richard W. Flach. (right).

The Leonard H. Clark Collection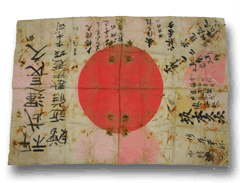 Leonard H. Clark served in the United States Army Air Force, and later the United States Air Force, from 1940 to 1968, attaining the rank of Major. During his term of services, Major Clark served in World War II, Korea, and Vietnam, first as bomber pilot and aerial observer, and later as the pilot of a mid-air refueling tanker. Over the course of his career, Major Clark was awarded multiple commendations, including the Bronze Star, the Air Medal, and the Distinguished Flying Cross. Major Clark was stationed in New Guinea, the Philippines, North Africa, Germany, and Thailand. In 1946, he was involved in an airplane crash off the coast of Japan, an incident that resulted in a broken leg. For a short period he was listed as "missing in action." The Leonard H. Clark Collection contains documents and materials spanning the length of Clark's military career, including service records, photographs, correspondence, and memorabilia collected from around the world.
On display: A World War II era Japanese sash, most likely stained with blood.

The Edith McChesney Ker Collection

The Edith McChesney Ker Collection chronicles the intriguing life of Edith and her husband, Donald. Edith met her future husband while on a life-changing safari in Kenya in 1958. She later became an avid photographer of wildlife and nature and dedicated her life to recording global splendors.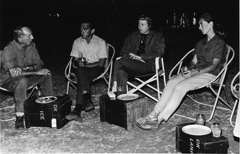 During her lifetime, Edith participated in more than 70 professional photographic camping safaris in Africa, and served as president of the Society of Woman Geographers from 1997 to 1999. Her photography is widely recognized throughout the world. The East African Wildlife Society used more than 50 of her photographs for their Christmas cards and calendars, and her photographs were also published in books for young children.
The collection consists of detailed journals that reveal her passion for nature, the couple's love for travel and history as well as breathtaking photographs. The collection is made up of more than 10,000 slides of wildlife, architecture and nature scenes from around the world and scrapbooks of Ker's travel and personal diaries.
On display: A photograph of Hugo Van Lawick, Edith and Donald Ker, and Jane Goodall circa 1965.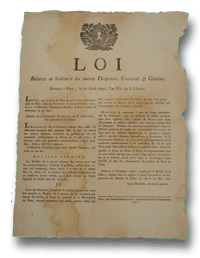 Michael La Vean Collection
Michael La Vean is an entrepreneur and medical device patent holder who studied Business Administration at George Mason University. He is also an avid collector of books and documents relating to politics and the history of women in 18th and 19th century France. The La Vean Collection of Revolutionary, Breton, and Early Empire French Documents is made up of 268 documents and books dating from 1751 through 1851. The majority of items contain information about the creation of the French National Assembly in 1789 through the period of time marking the beginning of
the Empire in 1805.
On display: A National Assembly law, signed by the King, dated April 22, 1792. It states that all old regime flags and symbols must be burned and replaced.

Special Collections Rare Books


Special Collections & Archives has an extensive collection of rare and antiquarian books, which support both its manuscript collections and the university's curriculum offerings. Collecting areas include Northern Virginiana, city and town planning, travel and transportation, book arts and printmaking, 20th century American politics and culture, cookbooks, science and Scottish heritage. While these books are non-circulating, they are available for research in SC&A's Reading Room.
On display clockwise from left: Szini, Gyula. Csoda Album, 1911 * Genesee Pure Food Co. Jell-O: America's Favorite Dessert, ca 1916 * Nowlan, Phil with Illustrations by Lt. Dick Calkins. Buck Rogers on the Moons of Saturn, 1934 * Raymond, Alex. Flash Gordon on the Planet Mongo, 1934 * Western Farmer's Comprehensive Almanac, For the Year of our Lord, 1847, [Pinned on page 24 of this almanac is a lock of hair and the inscription "Dannie died Nov. 19th, 1847."] * An assortment of miniature books from the late 19th and early 20th centuries * Gerstell, Richard. How to Survive an Atomic Bomb, 1950 * Whelan, F. Joseph, M.D. and Claudia A. Griffith. Nuclear Survival Manual for Apartment, Condo & Home Dwellers, 1984