About
Preservation Services at George Mason University Libraries provides holistic care for all of the Libraries' collections, from offering treatment and repair for individual items, to advising on international standards and best practices, to liaising with vendors for remediation, reformatting, and restoration. Located in Room 3009 in Fenwick Library, the 750 square foot Preservation Lab was constructed as part of the Fenwick Library addition and opened in 2016. Come by the lab for preservation questions, concerns, or just to say hi!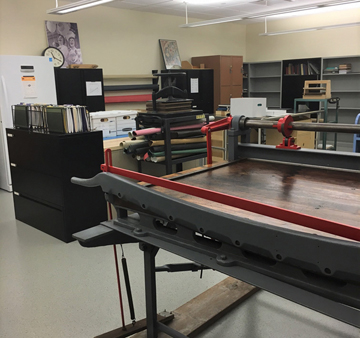 Collections Care Services
Environmental monitoring

Disaster response

Emergency preparedness

Stacks maintenance

Education and outreach
In-House Repairs
Paper cleaning and repair

Humidification and flattening

Deodorization

Tip ins and pockets

Rebacking, recasing, & resewing

Hinge, joint, and spine repair

Phase boxes, clamshells, and custom enclosures

Exhibition mountings and support
Meet Our Head of Preservation Services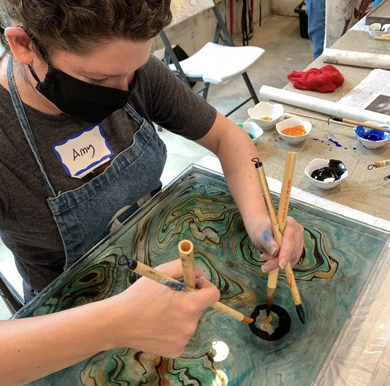 Amy Sullivan has worked in cultural heritage preservation since 2005, has been with Mason Libraries since 2014, and was promoted to Head of Preservation Services in 2019. She has served as an instructor for ALA's Fundamentals of Preservation since 2018 and as a member of the Preservation Advisory Committee for the Washington Research Library Consortium since 2014. She has attended the Summer Publishing Institute at New York University, the Midwest School for the Book at UIUC, and the School for Bookbinding Arts. She earned her MLIS from the University of Pittsburgh with a specialization in Preservation Administration.
Phone: 773-993-2337