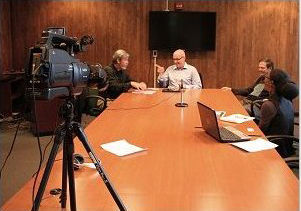 George Mason University Oral History Program, October 22, 2010. Participants, from left to right, are: Rob Burfield ('74), James Corrigan ('81), David Ritchey ('72 and '86), and interviewer, Nona Martin ('13).
The Oral History Program (OHP) records and preserves oral histories documenting personal perspectives about the creation, development, and growth of the university, key collections within Special Collections Research Center, and communities in the region of Northern Virginia.
Established in 1999, the program has conducted nearly 200 interviews, focused mainly on George Mason University's history. Encompassing diverse members of the university community, from past university presidents to former students, the interviews contain a wide range of voices and perspectives.
Collections of Oral Histories in SCRC
In addition to the interviews listed below, Special Collections Research Center houses and maintains: